Always Rippin' David Lawrence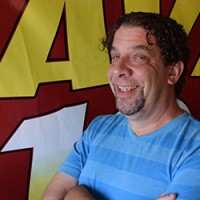 A ten year resident of the Big Island, musician David Lawrence got his first gig In Hawaii playing guitar for the now defunct Clubhouse Underground in 2004. With them, he had the pleasure and honor of opening up for Hootie & The Blowfish in 2006.He later Recorded a CD of original music with the band Brand New Face in 2007 & had some internet success. He toured the mainland in 2008 before coming back to Kona and started the band Green Machine. They did a two year residency at Boston Basil's Restaurant and Lounge in Kailua-Kona. It was there he met the LAVA 105.3 staff, who asked him to play live on Lava 105.3.  Da then went on to host open mic at Humpy's Big Island Alehouse for two years, then joined the Lava 105.3 team in October 2014.
David hand picks the best LIVE guitar licks and rockin' solos for the Six String Slinger's at Six every Monday through Friday.