Lava Liz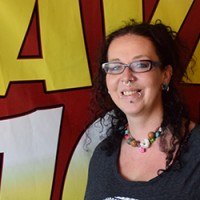 Originally from the Rocky Mountains of Colorado, Lava Liz's first "real" job was at a radio station at the ripe old age of sixteen. There hasn't been a department in the radio industry that she hasn't worked in. She started in the business office doing filing, moved on to radio promotions and large festivals and concert events, and now is an on-air personality and the music director for LAVA 105.3.
In 2008 Liz needed a vacation and went on a short trip to the Big Island that ended up lasting almost a month. Upon her return the Colorado, she packed up three suit cases and her two kids and moved to Kailua-Kona and never looked back.
After finding her way around the Big Island she fell in love with South Kona and has resided there ever since. Liz spends her free time gripping at her two teenagers and frolicking in the forests of Volcano. You can also find her being the loudest cheerleader at her son's baseball games. GO REBELS!
Liz hopes to someday have the patience to make her home garden grow and to somehow train her flock of chickens to lay eggs in their hen house and not in the laundry room.