The Deep End With Nick Michaels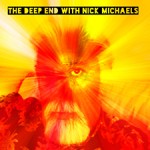 The Deep End with Nick Michaels is a rich listener experience containing stories about the music, interviews, and the voices of the artists themselves explaining their music. It allows the listener to get closer to the music they love. The Deep End plays a wide, deep and eclectic mix of music. This includes deep cuts by artists that are well known and some music by artists that are not as well-known but whose music is worthy of knowing. Host Nick Michaels weaves a rich tapestry of entertaining and informative information. It is a trip to a time when music mattered. The current environment of music radio has subdivided music into many categories and separated it. In the Deep End you will hear artists as diverse as Joan Baez, James Brown, The Flying Burrito Brothers, Joni Mitchell, Van Morrison, Steely Dan, The Beatles, Otis Redding, QuickSilver Messenger, Joe Cocker, Poco, Jesse Colin Young and many others.
Nick Michaels is a writer, broadcaster and voice-actor whose voice has appeared on over a billion dollars of paid advertising. As a narrator he can be heard on a dozen episodes of National Geographic Explorer and Bud Greenspan's Olympic feature documentary" Barcelona '92 Sixteen Days Of Glory" He is the author of The Manifesto For The Over Communicated World and was the original host of NBC Television's Friday Night Videos.